While seeing wildlife may be your primary goal, spending time in one of Africa's fascinating urban centers can enhance your safari in so many ways.
Cape Town, Johannesburg, Stone Town, Nairobi…these African cities have much to offer and will combine beautifully with your time in the bush. Or further afield the Exotic North African cities...
Who Should Consider Urban Flair & Safari?
Depending on the city,  there is something for almost every traveler to see and do – couples, families and small groups.   And, as almost everyone arriving on an international flight from outside the African continent must spend at least a night or two in their arrival city, we recommend taking advantage of this time to explore and enjoy its many attractions.
CLICK ANY PHOTO TO ENLARGE
South Africa: Cape Town
Of all the African cities, Cape Town (and its surrounding areas) warrants spending as much time as possible exploring.  The city's location, nestled between Table Mountain and the historic Victoria & Alfred Waterfront, is breathtaking.  But it's the people and the culture that will keep you busy and intrigued for days,  Don't miss a stroll down trendy Kloof Street, the colorful Bo Kaap, the Old Biscuit Mill or Greenmarket Square.  Cape Town is also Africa's food and wine capital, thus the culinary experiences on offer are seemingly endless, ranging from local farm-to-table to world-class gourmet fare.
Of course, no visit to Cape Town would be complete without a day spent touring the glorious Cape Peninsula.   Just outside the city limits, you will see charming fishing villages, spectacular coastlines, colonies of African penguins nesting on the beach and, of course, the Cape of Good Hope.
Also just a day trip away are the Cape Winelands, where picturesque vineyards and lush estates dot the landscape and delicious wines are ripe for tasting.  (Families need not leave this area off the agenda:  chocolate tastings and grape juice are also on offer for kids!).
South Africa: Johannesburg
Often underrated, Johannesburg, otherwise known as Joberg, has experienced a renaissance in recent years, emerging as a fascinating city for travelers interested in culture and history.  A visit to the Apartheid Museum is a must – designed to appeal to all tastes, it is rich with interactive exhibits and multi-dimensional experiences that tell the story in compelling fashion.  Soweto, South Africa's largest township and the former home of Nelson Mandela, is also not to be missed.  We also recommend a visit to Maboneng, Joberg's bustling arts district, alive with music, art and unique shopping.
East Africa: Nairobi
Did you know Nairobi is the only city in the world with a national park located within its boundaries?  Imagine witnessing a mother rhino and her baby or a herd of giraffe with a skyline of skyscrapers behind them.  Truly remarkable!
Nairobi is also home to the Giraffe Center, where one can interact with rare Rothschild giraffe, and the Karen Blixen Museum, which is the author's former residence (as referenced in her famous novel "Out of Africa") and decorated with her furniture, art and books, just as it was when she lived there.  But it is perhaps a visit to the Sheldrick Elephant Orphanage that is the highlight of your time in Nairobi.  Adopting a baby elephant entitles you to visit the Orphanage during the evening feeding, where "adoptive parents" watch as keepers feed the babies with giant bottles of formula and put them to bed in their enclosures for the night.   What a terrific start (or end) to your safari in the bush!
East Africa: Stone Town
A visit to Stone Town is a highlight of any visit to the exotic island of Zanzibar, just off the mainland of Tanzania. A UNESCO world heritage site, Stone Town was once the center of the global spice trade (as well as a hub for the slave trade during the 19th century), and its rich history is woven throughout a seemingly endless maze of cobblestone streets, hidden palaces and ancient buildings.  Take an architecture tour or a spice farm excursion, or simply stroll through the colorful bazaars as wooden dhows glide by the shoreline.  For a unique way to combine bush, beach and urban flair, Stone Town tops the list.
A Note about the Exotic Cities of Northern Africa:
Ancient and exotic, Northern Africa's cities are amongst the world's most fascinating.  We can create an itinerary for you that includes the most important sites of Egypt's capital city, Cairo, along with a cruise down the Nile and a visit to ancient Alexandria, or a privately guided journey through Morocco, including Fez and Marrakesh.  Wind through the souks, visit sacred mosques or ride a camel along the dunes – all of these adventures and more await travelers to this most intriguing part of the African continent.
Sample Journeys for Urban Flair & Safari Goers:
Think of them as Inspirations... Starting Points... Then We Tweak & Customize to Your Preference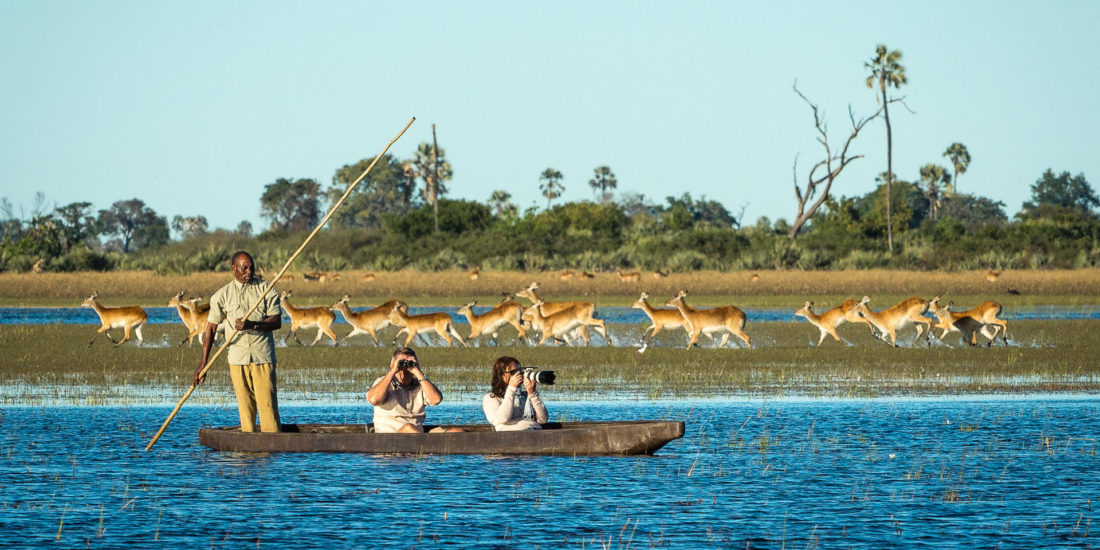 Enjoy the magic of Botswana and South Africa, with water safaris, desert & a vibrant…