Africa is a Playground for Adventure Seekers
Surrender to the freedom of the water, the thrill of a close-up encounter with an endangered species, the challenge of a mountain, or the adrenaline surge of a daredevil deed. Africa's natural landscape provides the perfect kick and adventure.
Adrenaline...
Several parts of Africa provide the perfect setting and ample fuel for body and mind…Southern Africa is a natural wonderland and offers everything from shark diving to zip-lining and rhino trekking on foot.  While Victoria Falls' adrenaline producing thrills such as micro-lighting, zip-lining, rafting, bungee jumping or hanging over the edge of Victoria Falls at the Devil's Pool all will get the heart pumping.  And the highest mountain in Africa, Kilimanjaro – beckons climbers to make it to the top!  We have helped many succeed at all these endeavors!
CLICK ANY PHOTO TO ENLARGE
Softer Adventure...
Lighter pursuits for those whose taste for adventure is a bit more mild…Walking safaris throughout Africa or rising with the sun to go ballooning over the Serengeti Plains; Dune sliding and quad biking in the Namibian desert;  Canoeing or fishing on the Okavango or Zambezi River to horseback riding on the beach or through South Africa's  vineyards as well as jet boating, helicopter dips, stand-up paddling and hiking Table Mountain with a guide in Cape Town.
East Africa's Action & Adventure....
East Africa's classic landscapes range from magical rain forest, rolling wooded grassland and misty forests to classic African savannas, topped by the snow-capped majesty of Kilimanjaro and Mt. Kenya.  This terrain is ideal for days filled with camel trekking, walking, horseback riding and mountain biking, available at many camps and several unique homesteads and bush home properties. Or try cliff-diving under a waterfall or float over the savanna in a hot air balloon, as the morning sun rises, glimpsing massive herds of game.
A Night Under The Stars...
And for a thrill you'll never forget, try a night under the African stars… in an inventive star bed at Loisaba in Kenya… or do fly camping trekking out with camels, on horseback, or on foot, and your tribal guides for a night away from your lodge..
What is fly camping, you ask?  One sleeps out either in a simple tent or under the stars, usually for one night, away from the main lodge or camp you are staying at.  Just for the experience. The fire crackles, you are surrounded by the wide open expanse of the bush and the open night sky wraps around you like a glittering, velvet blanket. You hear the loud, thunderous sound of a lion's roar and your spine tingles as you realize there is nothing but distance and the crisp night air that separates you from the Serengeti's top predator. Later, you are awakened by the thumping sound of a hundred hooves, as a hungry pack of Hyena chase a herd of wildebeest through camp!
These are the joys of fly camping, an African experience like no other.
Sample Journeys for Adventure Seekers:
Think of them as Inspirations... Starting Points... Then We Tweak & Customize to Your Preference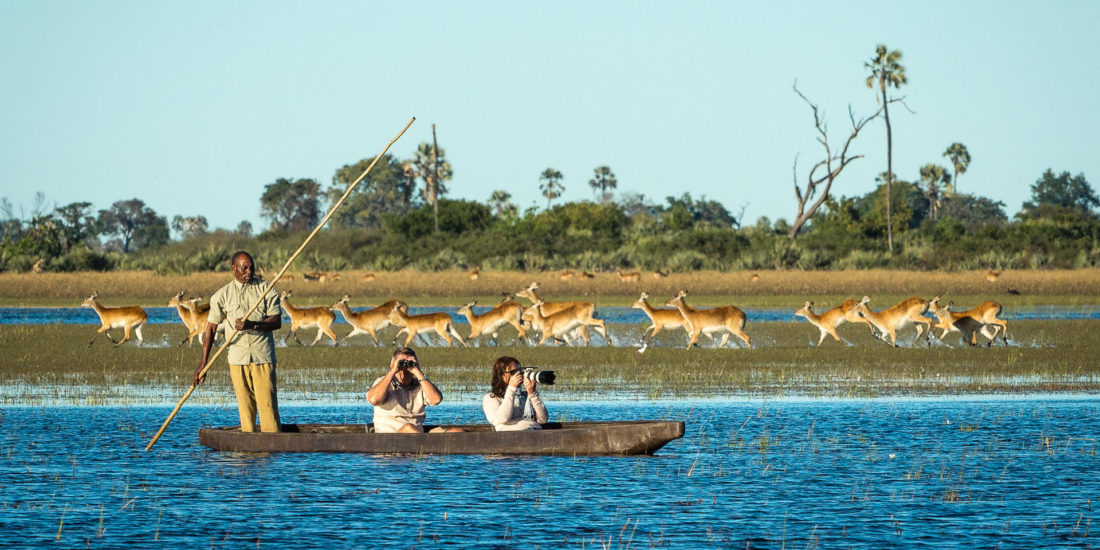 Enjoy the magic of Botswana and South Africa, with water safaris, desert & a vibrant…