A "classic" can be described in many ways: enduring, authentic, a standard by which excellence is defined. In fashion, it is expressed by clean lines, perfectly tailored. A classic safari designed by Anastasia's Africa embodies all of these things.
Imagine yourself in "the bush", comfortably seated in your 4x4 Land Rover with an expert guide at the wheel. Vast plains surround you, dotted with a thousand baobab trees. A lioness and her cubs are spotted in the distance as a herd of giraffe glides silently by...
After this magical experience, return to the comfort of camp:  a tented lodge or a mobile unit that follows the migration of more than a million wildebeest as they circle the massive Serengeti Plains.  Luxurious tents erected deep in the heart of the Okavango Delta.  Or a thatched chalet in Zambia's South Luangwa.  This evening, enjoy delicious food and a roaring campfire, sharing stories beneath a canopy of stars stretching as far as the eye can see.  Tomorrow, you'll do it all again.
With a focus on wildlife and nature, as close to the earth as possible…this is the essence of a "classic safari".
CLICK ANY PHOTO TO ENLARGE
Classic Safari: East Africa
East Africa is considered the birthplace of the classic safari.  With a distinctly "Out of Africa" sensibility (referencing the 1985 classic film starring Meryl Streep and Robert Redford), safaris in Kenya and Tanzania are often planned around the Great Migration.  Beyond the Migration, the resident game in both countries, inclusive of the fabled "Big Five", is spectacular year-round.
Uganda, also known as the "Pearl of Africa" is one of the original safari destinations on the continent, offering a traditional safari experience along with the opportunity to track rare mountain gorillas.  Gorilla trekking is often called one of the "Top Ten Wildlife Experiences" one can have in a lifetime and with good reason:  spending time with these gentle creatures is both magical and awe inspiring.   Rwanda, too, offers gorilla trekking and a traditional safari experience, though the latter is slightly less robust; combining  Rwanda with another East African safari country is often recommended for those seeking a classic safari.
Classic Safari: Southern Africa
Southern Africa's traditional classic safari countries include Botswana, Zimbabwe and Zambia.  Accommodations vary from tented camps to thatched chalets, while an occasional lodge (with solid floors and walls) is also in the mix.
What binds the experience together to create a classic safari is the emphasis on wildlife and nature, often in some of the most wild and remote locations in the world:  Botswana's Okavango Delta (a system of waterways so vast it can be observed from outer space), Zambia's South Luangwa and Lower Zambezi, and Zimbabwe's Hwange National Park, to name just a few.  Of particular note is the level of guiding in these parts of Southern Africa; as a point of reference, the safari guides in Zimbabwe are widely considered the best in all of Africa.
A lovely addition to a classic safari in Southern Africa is a stop at Victoria Falls, where history meets one of the wonders of the natural world.
A Word about Tented Camps
If you're just beginning your research, the notion of a "tented safari" might conjure images of summer camp, bathing in streams and outdoor "facilities".  Nothing could be further from reality!  While there are certainly some rustic camps in Africa, the tented camps Anastasia's Africa favors are a much more luxurious affair.  Depending on the budget, accommodations may range from simple:  comfortable beds, en-suite bath and shower, hearty meals, gracious hospitality and exceptional guiding, to 5-star plus:  teak furniture, swimming pools, gourmet food and wine, award-winning private guides and jetting from camp-to-camp.
It's also important to know there are several types of tented safari camps.  A permanent tented camp is just as it sounds:  the camp remains in a fixed spot throughout the year which allows for more luxurious touches, from both a design and convenience perspective.  A semi-permanent camp is one that remains stationary but can be moved if need be.  This type of camp often also includes more upscale touches than the mobile tented camp, which can be a bit more rustic given it is designed to move twice per year to ensure optimal viewing of the Great Migration.    Luxury travelers need not fear, however:  many mobile camps are astonishingly well-appointed, with elegant design rivaling some private homes.
No matter which type of tented camp you choose, spending all or part of your classic safari "under canvas" is an experience not to be missed!
Sample Journeys for Classic Safari Enthusiasts:
Think of them as Inspirations... Starting Points... Then We Tweak & Customize to Your Preference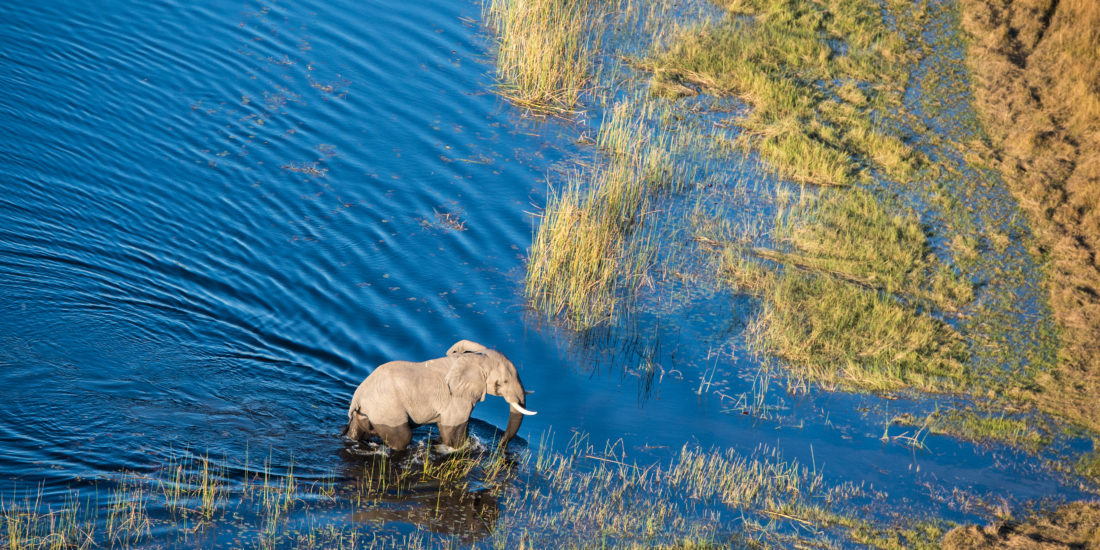 Magical Botswana with landrover, water & desert safaris...including meerkats! Visits to 3 distinct areas: the…