AFRICA - the ultimate spot for anyone looking to get away as a couple, as a group of friends...or just a romantic escape for two!
For an unforgettable honeymoon, anniversary or romantic sojourn, or just a great trip with your favorite friends ~ experience Africa's pristine wilderness regions, golden beaches and tropical islands.
East Africa:
When traveling as a group of friends or as a couple, many clients prefer to be a lodges that are less focused on families.  Not that they don't like children, but for their safari they often prefer more adult oriented lodges.  We know all the right places.  Additionally, we assist clients in picking times of year when there are fewer families.  When schools are in session works best. Some activities are also better suited to adults on safari — such as gorilla trekking and many lodges don't allow young children as they are unfenced.
For a grand style, romantic safari in Kenya or Tanzania, reminiscent of a golden bygone age, the Africa of storytellers, adventurers and explorers, enjoy a combination of elegant and unique bush home properties or a luxury mobile tented safari.  (that's what Karin, our Managing Director, did on her honeymoon 25 years ago!).  The sounds of the bush fill the air as guests dine by candlelight with silver and crystal service.  Fine wines and a gourmet meal followed by port, cigars and safari tales complete the night.
CLICK ANY PHOTO TO ENLARGE
Southern Africa
Start out in dreamy South Africa's Cape Town, combined with a wine country chateau.  Continue on to an opulent safari camp, such as Royal Malewane, Singita, or Lion Sands, located in the heart of a lush Greater Kruger game reserve, and luxuriate in huge four poster beds, enjoying balmy nights under the starry African sky.  In the crisp predawn breeze, couples can cuddle with a hot drink and greet zebras with the rising sun; later, in camp, have a massage on your private deck.  Or take in the romantic waterways on a Botswana honeymoon, followed by adrenaline and thrills at Victoria Falls, ending with a romantic cancle lit dinner for two floating on the San Pan in the middle of the Zambezi River.
Islands & Coast
Both the Atlantic & Indian Oceans offer a wealth of special locations for unique experiences with friends or a romantic journey, be it a private island or along the Coast.
After having spent time enjoying Africa and its wildlife, we will then fly you off to a wonderful and luxurious island hideaway – to the Seychelles, Mauritius, Zanzibar or a little island off the coast of Mozambique where you can enjoy world class diving, snorkeling, sailing and other water sports.  Whether you prefer a simple thatched "banda" with hammocks and huge cushions, a desert island, an award-winning coastal villa in Lamu or Mombasa, or a palatial suite, complete with private pool and extravagant spa treatments, we can arrange it for you.  Or to head off to an even more far-flung destination, discover islands off of Madagascar or Sao Tome & Principe.
Destination Wedding --- AFRICA!
We understand exactly what is operationally possible in the beautiful, far flung corners of Africa, and together with our teams on the ground, we can stage the ultimate safari wedding in Africa for you, complete with an African banquet, local entertainment and Africa drumming, as well as putting you in touch with a local magistrate who can perform a non-religious ceremony.  All this, along with the finishing touch:  a honeymoon in the most grand and romantic setting on earth!
Sample Journeys for Couples & Groups of Friends:
Think of them as Inspirations... Starting Points... Then We Tweak & Customize to Your Preference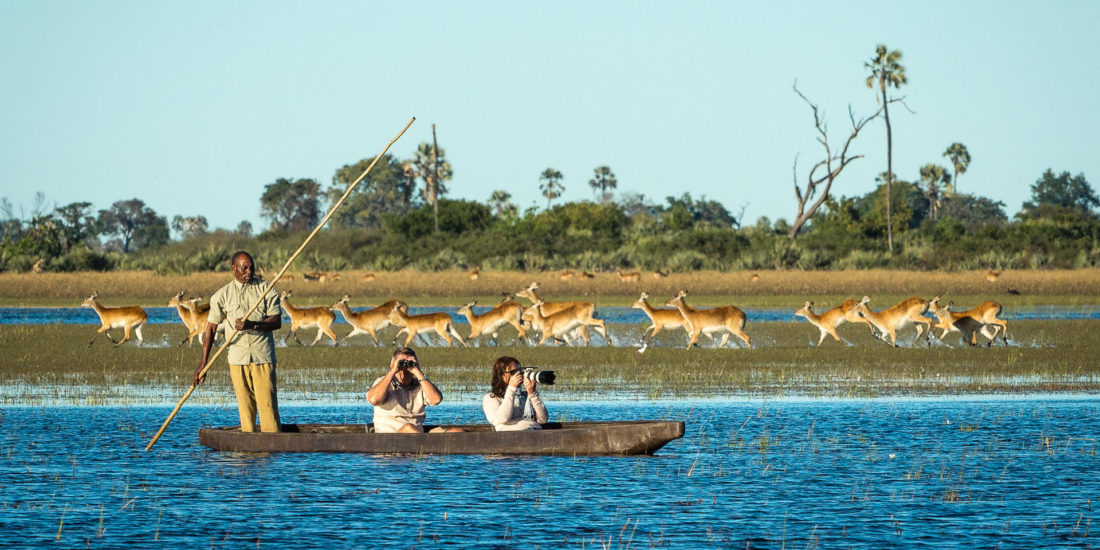 Enjoy the magic of Botswana and South Africa, with water safaris, desert & a vibrant…